Kaiapoi promotions put on a great weekend of entertainment with the Christmas carnival. The one thing that impressed me was the KPA organised buses of families from Waiau to come down for the Saturday festivities, local businesses the likes of Hellers, ANZCO foods, David from Foodstuffs, Bundaberg drinks, Rivertown Cafe etc…great effort KPA.
---
I wanted to place an advert with Google Adwords promoting the http://kaiapoi.info website…it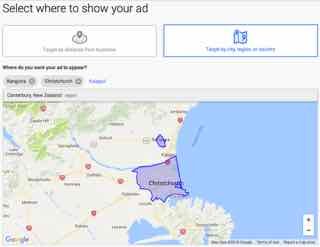 asked what region I wanted to target, I wanted to target Kaiapoi… however I couldn't, I could target Christchurch, Rangiora, I could even target Tai Tapu and Lincoln…but as far as Google was concerned the second largest town in the Waimakariri didn't exist. The other towns are far smaller than Kaiapoi with Lincoln being half the population and can be targeted by advertisers…but Kaiapoi can't.
I think this is one of the issues with Kaiapoi, because it is so close to Christchurch, it is seen as just a suburb or an outpost of Christchurch, Thats not the case in our minds.
The episode with Google has driven me even further to go forward and promote Kaiapoi
---
Emails have been sent to the various listings on the website, many people do not have emails listed to their businesses. SO will have to send cards or letters to those people.
If you have a business or know of someone that runs a business in Kaiapoi, check to see if they are listed on the website and if they are not, please let me know.
Have a great week
Brent